Recent Event Pictures!
"A Cruise to the Tropics"

Captain Laurie and Captain Mr. Rick welcome the gang to another "sold out
event" The Cruise to the Tropics at the Lake Merritt Hotel
| | |
| --- | --- |
| | Laurie Gordon with Pete Mirosnkoff. We had plenty of Captains aboard! |
| Ron Tanovitz toasts us all with his Mai Tai. Bon Voyage! | Dave and Linda Bergmann arriving on a perfect summer night |
| Tony Inson, his beautiful car and beautiful dates | Everyone's favorite dance partner Bernie Schindler with Jane Barnes and Angela Grimes |

Glamour girls Gina Bruno and Jessica Boscarello. Va va voom.
| | |
| --- | --- |
| Richard Look, Curt Garman and Richard's brother fresh off the "boat" from New York | Abby Tolin and Birthday Boy Ed Kersh mai ti one on! |
| Laurie and Curt | Lovely Theresa La Quey |
| Sheryl Birkner, Lori Leigh Gieleghem, Michael Haimovitz and Paula Forselles | Kristen, Elizabeth and Sara. New Decobelles at their first "Mr. Rick's" |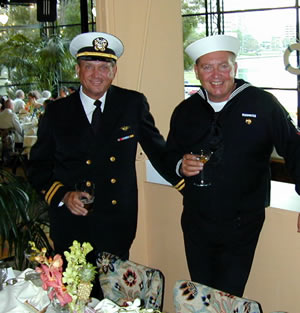 Pete Mirosnkoff and Mike Braida. Aye Aye!

The Incomparable Mood Swing Orchestra played the best music as the sun set and the evening "cruise" began


the Sultry Singer, Laurie, celebrated her birthday by performing with
Mood Swing Musicians


Mr. Rick shares the stage with the Mood Swing


A great view of the dance floor is from the upper terrace


Bernie cuts a rug with Serafina


Heather Ripley, Kimberly Manning, Amanda WIlliams and Kathleen Kirkpatrick


Pat Phillips and Dan Lo looking so good


Birthday Babe Kristen and the rest of the Belles


Sara Galindo shows her Latin Tropical moves


Everybody CONGA! Autumn and company get the entire audience up and out of their seats!


Ed celebrates in the Conga Line


Kailen flashes a million dollar smile at photographers

The "Conga Belles" surround photographer Mark Jordan

Gorgeous Jesse Newell in the "Candra Scott" Lobby had the most glorious outfit complete with two full bunches of orchids and lilies


Jim McKenzie brought lovely Sabina. Her first Martini Club!


Jesse Newell and Laurie Gordon are always the ones to greet you (and give you Chocolates as you leave) at the Martini Club Events


Mr. Rick and Captain Michael cruising through the crowd


Denise and Scott Brady have a romantic moment on the "Good Ship Martini"


Oren Scott and Carrie Lalonde brought Jared and Sandra. They come all the way from Sacramento and Stockton for a taste of the "Good Life" at Mr Rick's


Those three rogues! Roberto, Rick and Lundy!


Mr. Rick with gal pals Sheryl Birkner, Theresa laQuey and Pamela Forman


Laurie gives Ryan a big hug for designing and hand coloring all the table signs for the event!


Rick's nephew Zak helped make this a very special event!


The Fishman Family came all the way from Detroit to see what "Brother
Rick" does here on the West Coast. Marc, Anne Zak and Ryan spent a great week in a big suite at the Lake Merrit Hotel... the Tropical Cruise was the Grand Finale


Bartender Bernard mixed up a batch of Mai tais (a big hit) to go along
with the Martinis he is now famous for shaking!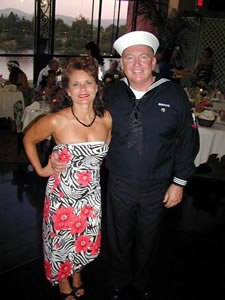 Sailor Mike and Birthday Girl Val Braida brought fifteen friends and
family along on the "Cruise." What a great way to celebrate!